Uniform
The school uniform is compulsory for all students from Year 7 to the end of Year 12. The appearance and behaviour of students is expected to reflect the core values of the school at all times and there is a code of acceptable dress for eligible Year 13 students.
Uniform for both Boys and Girls
Footwear:

Polishable all black leather shoes with a low heel, either lace up or with a black leather strap or T Bar. Ballerina, canvas, coloured sports shoes are NOT permitted.

Orthotics: If a student needs to wear orthotics parents/caregivers are requested to take the regulation school shoes to the specialist and have the orthotics fitted to the School shoes.

Shirt:
Short pale blue regulation shirt, or blouse with school logo on the pocket.
Jersey:
Royal-blue, fine-knit plain V-neck jersey, or a plain blue Back Road jersey. No logos.
Raincoat:
A plain, black or navy waterproof jacket may be worn to and from school, as well as at interval and lunchtime, in wet weather. It may not be worn in the school buildings.
Hats/Beanies:

Summer – The regulation plain dark-blue summer cap can be worn for sun protection.

Winter – a plain dark-blue beanie can be worn for warmth.

All hats must be removed when inside school buildings.

Scarves:
A plain navy scarf may be worn.
Tie:
School tie optional. To be worn with the new school shirts for boys and girls. Can be purchased from the school office.
Hair:
Hair must be clean and tidy. Long hair needs to be tied back when students are working in the science and technology areas. Extreme hair style and extreme colour are not permitted. Boys' facial hair is not permitted.
Jewellery:
The only jewellery that may be worn with school uniform is a wrist watch, one item of religious or cultural significance and one pair of small studs/sleepers in the ear lobe. Studs or sleepers must be taped or removed for all contact sports. Other visible piercing is not permitted.
PE/Sportswear:
School PE shirt and navy shorts (above the knee) - available through the school office, white socks, sports shoes (for PE and/or outdoor sports) and tracksuit pants (see office/PE staff for details).
Boys' Uniform:
Summer
Shorts: Regulation grey drill shorts.
Socks: Regulation black socks with blue bands.
Winter
Trousers: Regulation long, dark-grey dress trousers.
Socks: Regulation black socks with blue bands.
Girls' Uniform:
Summer
Skirt: Blue and gold summer skirt available from West End Clothing or culottes available from Schooltex (The Warehouse). The skirt is to be knee-length.

Socks: Plain white anklet socks, or regulation black socks with blue bands.
Winter
Skirt/Trousers: Royal blue/navy-check regulation skirt OR regulation navy hipster pants available from West End Clothing.
Tights: Plain navy tights may be worn.
Socks: Plain white anklet socks, or regulation black socks with blue bands.
Please Note
Summer and winter uniform can be worn to suit the weather conditions.
Any garments worn under school uniform must NOT be visible.
The school is no longer ordering and selling the girls' winter skirts and these will be able to be ordered and purchased from West End Clothing, Kaikoura. We have also been able to source a commercially made summer skirt. There is currently no more material available from West End Clothing so students requiring a new summer skirt will need to order these from West End Clothing. They can also supply the regulation blue jersey, blue polo shirts, grey trousers and shorts.
Makeup and coloured nail polish are not permitted.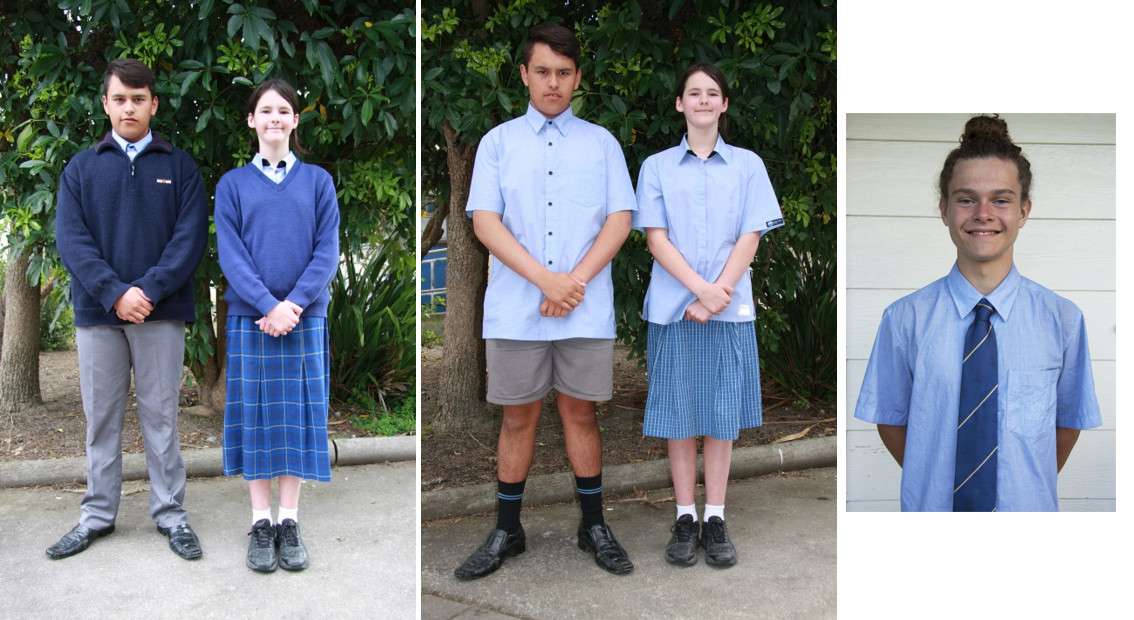 Year 13 Senior Students' Dress Code:
For senior students in Year 13 school uniform is optional. If mufti is chosen, dress must be smart casual attire suitable for school. Remember - you are representing the school in a leadership role. Your clothing must be clean, tidy and in good repair.
A change of clothing must be brought for PE, or sports, or recreational periods.
If there is any doubt about suitable clothing see your Form teacher.
Teachers have the right to question the mufti clothing worn by Year 13 students. Senior staff have the authority and right to veto if clothing appears unsuitable.
Remember the wearing of mufti is a privilege for senior students. Dress smartly within these guidelines.
Visible body piercing or facial hair is not permitted.
From time to time this dress code may be reviewed with senior students.
Unsuitable Uniform Includes:
Jandals or similar loose footwear. These are not smart casual because the laboratories, workshops and Home Economics room require closed in footwear anyway).
Bare feet (can be dangerous).
Inappropriate casual clothes, eg beachwear, short skirts, singlets, short shorts, hot pants and garments with low necklines.
T-shirts, jersey or jackets with offensive messages or logos (check if unsure).
Clothing displaying advertisements for alcoholic beverages is also not permitted.
Second-hand Uniforms
Some items of uniform may be available from the school office. For any uniform-related query please see the Assistant Principal responsible for uniform.