Kaikoura High School People
| | | |
| --- | --- | --- |
| Mr J Tait | Principal | |
| Mr A Lean | Staff Representative | |
| Mr O Thornton | Student Representative (Second term from Sept 2019) | |
| Mrs L Bentley | Parent Representative | |
| Mr I Bradshaw | Parent Represenative | |
| Mrs L Hawke | Runanga Representative | |
| Mrs R Allen | Runanga Representative | |
| Mr M Fissenden | Chairperson Parent Representative | |
| Mr M Boyce | Ministerial Appointment (tbc) | |
| Mr J Wyatt | Ministerial Appointment (tbc) | |
| | | |
| --- | --- | --- |
| Mr J Tait | MA(Hons), DipTchg | Principal |
| Ms G Cameron | AdvComTchgDip, NatDipSpSubjects | Deputy Principal/Commerce |
| Mrs J Fissenden | MSc(Hons), DipTchg | Deputy Principal/eLearning |
Curriculum Area Leaders
(in alphabetical order)
Mrs C Kitt
BA, BSc, CertFitnessManagment PE, DipTchg
Head of Science (From Term 3 2018)
Mr M Lawrie
BBA, GradDipTchg

Mathematics & Student Well-being
Co-ordinator

Mr A Lean
BSc(Hons), PGCEn
Social Sciences/Kāhui Ako ASL
Mrs T Lean
BA(Hons), MA, PGCE, PostGradDipSpecEduc
English
Ms A Lidbetter
BIS, GradDipTchg(Primary)
Year 7/8/Kāhui Ako WST
Mr D Mallinder
BEd, TchgCert
SCT
Mrs H Parkinson
DipTexDes, DipTchg
Visual Arts
Mr M Thomson
BPhEd & DipTchr
Outdoor, Health & Physical Education
Teaching Staff
(in alphabetical order)
| | | |
| --- | --- | --- |
| Mr D Anderson | DipTchg, S/S Technology | Technology Hard Materials & Graphics |
| Mrs I Anderson | BA, PostGradDipGuidance,DipTchg | English |
| Ms E Ataria | TTC, BEd, DipGuidanceCounselling | Counsellor(Fixed Term 2017 & 2018) |
| Mr L Clydesdale | BEd | Physical Education |
| Ms C Davis | BHSc (Major Education) GradDipTchg&Lng(Sec) | Te Reo Māori/Health |
| Mr E Lamond | BA Hons, BSc, MasterTchg & Learning | Mathematics |
| | BEd | Year 7/8 Homeroom & Music |
| | | Social Sciences – History & Classics |
| | BSc, PostGradDipSci, MA, DipTchg | Year 7/8 Homeroom |
| Mr P Threadgill | BCom,DipTchg,DipAg,DipFarmMgt | |
| Mr P Turner | GradDipT (Secondary), GradDip (THMgt), Cert AdultEd, Trade Cert (Professional Cookery) | Food Technology |
| Mr A Wood | BSR(OED), GradDipTchg & Lng(Sec) | Physical Education, Outdoor, Health |
| Mrs S Yeats | tbc | English |
Relievers
(in alphabetical order)
| | | |
| --- | --- | --- |
| Ms E Geary | | |
| Mrs J Mains | | |
| Mrs N Redwood | | |
| Mrs J Rodokal | | |
| Mrs A Taylor | | |
| Mr A TeMoananui | | |
Support Staff
(in alphabetical order)
| | | |
| --- | --- | --- |
| Mrs J Dasler | | Principal's PA/Board Secretary/Finances |
| Ms C Dawes | | Cleaner |
| Ms M Fissenden | | Gateway/STAR |
| Ms C Protheroe | | Sports Co-ordinator/Attendance Officer/Office Administrator |
| Miss E Smith | | Maternity leave cover for Ms C Protheroe (Term 4 2019 - Term 1 2020) |
| Ms C Robertson | | Teacher Aide |
| Mr J Lintott | | Caretaker |
| Mrs M Nelson | | Librarian |
| Mrs S Scott | Certificate of Dental Nursing | Student Administrator |
| Mrs L Sumner | | Cleaner |
| | | Part-time Science Technician |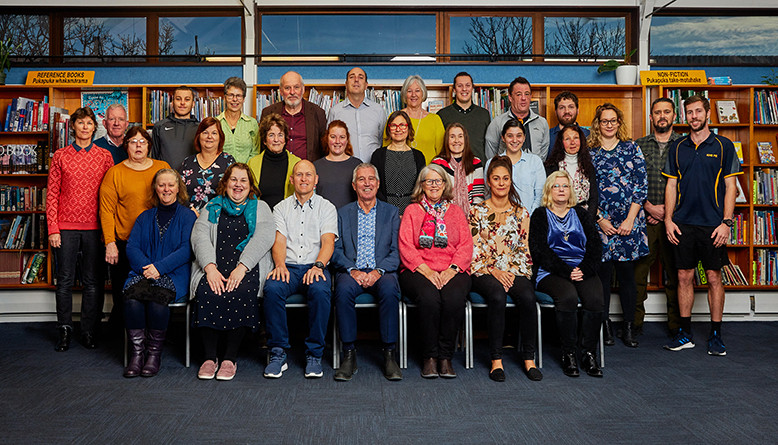 Back left to right: Mr D Mallinder, Mr L Clydesdale, Mrs J Dasler, Mr P Threadgill, Mr P Turner,
Mrs S Scott, Mr H Pearson, Mr M Thomson, Mr E Lamond, Miss C Protheroe, Mr J Lintott, Mr A Wood.
Middle left to right: Mrs M Nelson, Mrs I Anderson, Ms S Yates, Ms E Ataria, Miss A Lidbetter,
Mrs M Reid, Ms Emma Geary, Ms K Nemeth, Mrs C Robertson.
Front left to right: Mrs H Parkinson, Ms C Kitt, Mr M Lawrie, Mr J Tait, Ms G Cameron, Ms C Davis,
Mrs T Lean.
Staff Absent -
Mr A Lean, Mr D Anderson, Mrs J Fissenden, Ms M Fissenden,
Mrs J Rodokal (reliever), Mrs J Mains (reliever), Mrs A Taylor (reliever), Mr A Te Moananui (reliever)